From start-ups to large enterprises, cloud-native to on-premises, organizations of all shapes, sizes, and motives deploy ISTIO to solve their immediate problems. With ISTIO in place, the DevOps teams can add additional capabilities to their service mesh.
Here is how enterprises can leverage the out-of-the-box capabilities of ISTIO using BuildPiper. Read further to know more!
What is ISTIO?
ISTIO is a configurable, open-source service-mesh layer that provides a crystal-clear and language-independent method to flexibly and easily automate application network functions. ISTIO, like any other service mesh, allows the DevOps team to add capabilities such as observability, traffic management, and security, without any need for adding these to the original code. ISTIO Service Mesh is being widely adopted by enterprises as a solution to manage different microservices that make up a cloud-native application. Additionally, ISTIO supports and handles how microservices communicate and share data with one another.
How does BuildPiper help?
With the increased adoption of Microservices, complexities in managing them have increased too. Difficulty in deploying a service mesh is another factor aggravating this problem. So, to overcome management- hassles such as these and more, the DevOps team at OpsTree came up with a solution- BuildPiper!
It provides and supports seamless setup and integration of some of the best industry-standard tools such as ISTIO, Kiali and Jaeger. BuildPiper's support for a hassle-free and quick setup of ISTIO and ISTIO Gateway makes it the most desirable platform to manage Microservices in the industry today.
With BuildPiper, DevOps teams can leverage the out-of-the-box capabilities of ISTIO for traffic management. This helps businesses in ensuring a smooth, secure and compliant Microservices application delivery.
Here is an overview of the K8s cluster after the setup of ISTIO Service Mesh and options to set up Kiali, a management console and Jaeger, open-source software to record transactions between the services within a K8s cluster.
Besides offering support for ISTIO setup and ISTIO Gateways, BuildPiper helps teams with the setup of Kiali and Jaeger for secured service delivery. The image below is the Kiali dashboard showing the traffic flow of different services within the cluster.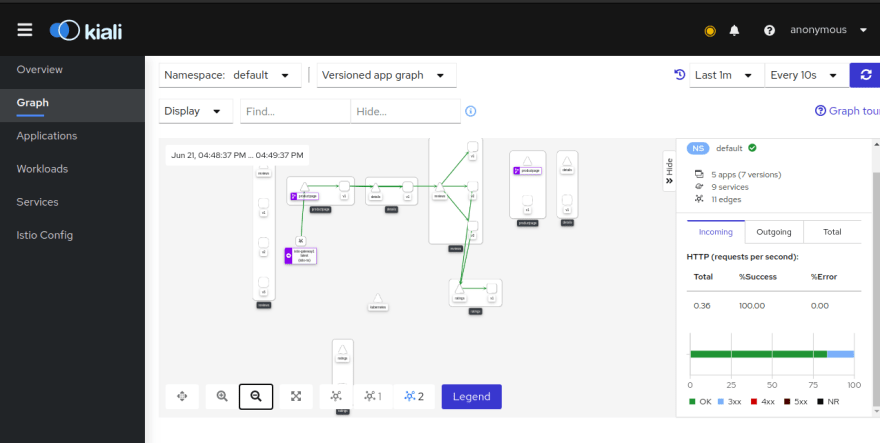 Wrapping it All!
BuildPiper enables complete delivery of Microservices Applications on Kubernetes in under a day and helps software teams in doing away with the pain and hassle of setting up & managing these. It empowers enterprises with production-grade Microservices through Managed Microservices– one of the core pillars of the product. Explore other exciting features of BuildPiper including Managed Kubernetes, Secure & hassle-free CI/CD setup, and Security, Compliance & Observability. Take a look today!
Buildpiper is an End to End Microservices Delivery Platform.
Connect with Us